https://natc-ht.com/wp-content/uploads/2018/06/Winter-Automotive-Test-Facilities.jpg

NATC's Winter Test Facility is a premier winter proving ground located in West Yellowstone, Montana.  Available from November 15 to April 15 each year, our winter facility offers optimal winter test conditions from December through March, with approximately two million square feet of groomed test surfaces and expanded facilities and infrastructure.

View the 2022-2023 Winter Test Brochure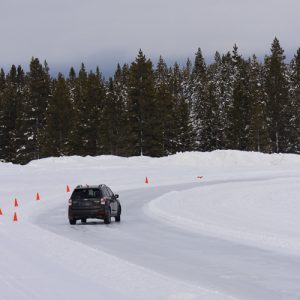 We prepare and maintain a wide variety of surfaces and tracks and have the capability to build custom courses based on the customer's input.  Most test surfaces are maintained at a medium pack (70–80 CTI) with virgin snow, soft pack (50-70 CTI), hard pack (80-90 CTI), and frozen and melting ice available depending on the test requirements.  Courses include, but are not limited to:
Vehicle Dynamics Areas:

Terminal Apron (2200' X 250')
Taxiway (8400' X 75')
Runway (8400' X 150')

Handling courses
Road courses
Grades
Ice lane with J-turn
Off-road virgin snow mobility courses
With our Dynamic Force Measurement Vehicles (DFMVs), we can measure longitudinal and lateral traction of tires ranging from 13" to 24.5" wheel sizes and 700 to 10,000 lb vertical load in order to test ASTM F1805 driving traction.  We also test to international snow grip standards including ISO 18106.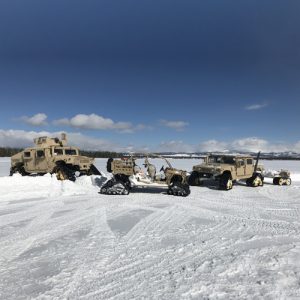 NATC offers comprehensive winter testing solutions, along with complete facility and security support to meet individual customer needs, including:
Vehicle preparation and maintenance area
Tire mounting and changing area
On-site instrumentation technicians and equipment for test support
On-site vehicles to support dynamic longitudinal and lateral traction testing
Complete on-board data acquisition equipment
ISO (3888/2631), GM, Ford, and USTMA "snowflake" testing standards
SAE J57, J341, J345a, J1060, J1269, J1270, J1379, J1380, J1981, J1987, J2014, J2429, J1466
Over 35 ASTM standards include, but not limited to: E274, E445, F377, F408, F870, F970, F1016, F1426, F1650, F1805, F1922
In addition to these testing capabilities, our winter facility is an excellent choice for marketing and public relation events. Our experienced personnel is available to assist in planning and supporting promotional and training events.
The winter facility buildings, 2,500 square feet total, include four garage bays and several office and storage areas.  A security fence around the entire perimeter protects our exclusive use of the facility and any customers desiring absolute security and privacy.
Location: The West Yellowstone facility is conveniently accessible from nearby Bozeman, which is located approximately 90 minutes north of the testing facility.
Winter Automotive Test Facilities