Automotive Tilt Table Testing Center Nevada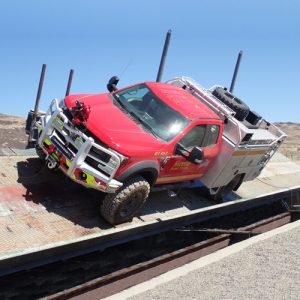 Designed and built in-house by NATC engineering and fabrication personnel, the tilt table augments NATC's vehicle dynamics testing capabilities. These capabilities include, but are not limited to, handling, roll stability quantification, end limit performance, side slope operation, fork lift capability, active suspension development, and a multitude of standardized tests in accordance with regulatory and industry standards. We conduct evaluations to determine the static lateral stability and rollover thresholds of the test article as well as roll characteristics based on chassis stiffness, and to estimate lateral acceleration. Testing may include vehicle component operation such as boom or water cannon operation. The same types of tests can be conducted on non-vehicular products such as shelters, skid-mounted assemblies, and containerized assemblies and systems.
Equipped with a high friction surface to inhibit sliding of the test vehicle, the tilt table rotates at a rate of approximately 0.09 degrees per second to determine the static roll properties of the vehicle and to prevent abrupt roll input into the test vehicle. With a surface area of more than 800 square feet and a lifting capacity of approximately 350,000 pounds, the tilt table can be used for many types and sizes of vehicles up to and including buses, tractor-trailer rigs, crash-fire rescue apparatus, ambulances, and heavy equipment used in construction, material handling, mining, and agriculture.
NATC Tilt Table Specifications
Length: 89 feet
Width: 9 feet (expandable to 12 feet)
Maximum Tilt Angle: 60 degrees
Surface Area: 800 square feet
Tilt Rate: 0.09 degrees/second
Angle Accuracy: + 0.1 degree
Net Lift Capacity: 350,000 pounds
Lifting Mechanism: Worm gearbox and synchronized precision screw jacks
Tilt Table Testing